If we've noticed a trend in machines at Talk Coffee this year it's been the rise and rise of customisation, or the frankenmachine as we like to call them. This probably isn't a surprising trend. Increasing buyer sophistication for home prosumerware means that there is a point where upgraditis reaches a functional ceiling. You've bought the best, now time to differentiate.
Popular when putting machines in for a nip and tuck are the little touches – custom portafilter handles and group caps have been big this year, with hand turned wood and brass numbers making up a significant proportion of customs jobs. Along those lines are adding wooden paddles, a feature that takes a machine like the LaMarzocco GS/3 MP from being one of the most stylish machines on the market to a whole new level of design and UX.
The side show has also been embraced – wooden sides in everything from maple to walnut again popular to match with the handles and paddles, along with custom colour Perspex or glass, there seems to be no limit to the pimpability of machines – or our client's imaginations.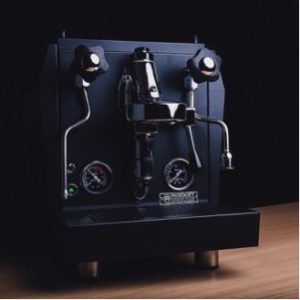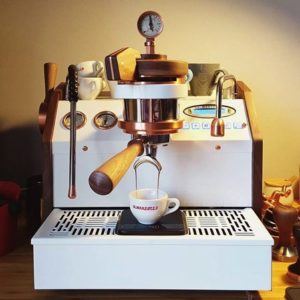 If you want to go big, the machine itself can also be completely transformed. Powder coated matte black is the new shiny silver, with the end result being a brooding piece of kit like the Rocket Espresso Evoluzione black. The whole package has been done here by our buddy Rick Bond @coffeemachinist – front and rear panel, cup tray cover, drip tray and drip tray cover and while these types of mods starts at about $440, if you are a little tired of the look of your machine but want to fall in love all over again, it can be a relatively small outlay.
If you don't want to get back in black, you might be surprised at the transformation white + wood + copper make. This one customised by ex furniture maker turned barista blingmaster Daniel Schonknecht from Specht Design @specht_design (photo by @timothywee instagram). Again, the keyword here is transformed, and given the caliber of machine being featured, it's kinda hard to imagine it could have gotten any better. We work closely with these two brilliant minds to deliver you a one stop solution. Choose your machine, your mods and hey presto! We make it all happen for you.
Will the Franken fervour continue next year? We reckon yes, if the tempo of the pre Christmas custom orders and enquiries have been anything to go by.
Wondering what opportunities there are for your machine? Come and see us in 2016, and start collecting your rare timber and precious metals over the holidays.