Rocket Espresso launched their 2017 range on 03 March 2017 and we are thrilled to showcase these upgraded and new machines.
We are expecting 2017 models to arrive towards the end of May 2017.
For those wanting a quick summary, you are most welcome to view the 2017 Rocket Espresso Brochure and 2017 Rocket Espresso Technical Specifications.
So what's new?
Upgrades to Giotto and the new Mozzafiato models:
The Giotto PID is replaced by the new Giotto V. Key changes include the incorporation of height adjustable stainless steel feet and the adoption of the stainless steel cup surround which was previously optional.
Steam and hot water valves take cues from the R58/R60 models with the incorporation of eye-catching rocket branded valve handles
The Cellini model, previously unavailable in Australia is replaced by the straight sided Mozzafiato which mirrors the side panel design of the commercial Rocket Espresso Boxer range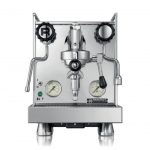 Rotary pump Evoluzione models include all of the above features and have added PID temperature control. The new models are the Rocket Evoluzione Mozzofiato R and the Rocket Espresso Giotto Evoluzione R
Upgrades to R58/R60 models:
Both models gain height adjustable stainless steel feet
Appartamento
This recently launched model does not change.