We're thoroughly spoilt here at Talk Coffee…Great coffee every day and a choice of terrific gear to sample it with.
Today, the day started with a top of class Brazil natural under milk (or breakfast as we call it) per favour of our always ready shed Slayer. Then there was a heap of roasting. Must be coffee time!
Whilst at the roaster, an evaluation Isomac Tea Due arrived and it was placed aside for a later look as a potential demo bench candidate. Roasting done, it was time to undress it and peer inside. Is this the little machine that can, or just another $2k generic e-61 offer?
What was it like?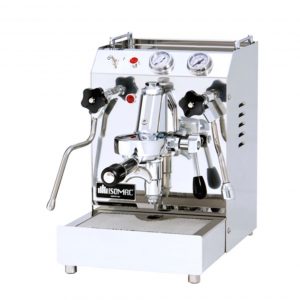 nice stainless steel chassis
stainless steel boiler as well: nicely braced too…
big tank
cool touch wands. Bonus.
pretty well finished for the price point
hmm…quiet pump. Nice!
big drip tray
funny polished spot weldy things on the front of the drip tray? What's with that? Not the prettiest machine I have ever seen, but there are worse out there…
wiring loom- a bit messy, but all heat resistant silicone wiring. Ok then..
pressure at the group? 13.5Bar! What the?
boiler pressure? 1.5Bar! Up there and then some…. Steam's good though…
Scace test at idle after a good warm-up and rest? A solid 98 deg. C. She's a hot one…
At this point, it wasn't looking too good, so it was out with the tools…
On a positive note, the OPV was easily set to 9Bar and pressurestat back to about 1.1Bar delivered a steady 94.5 deg. C at the group, so at that point, a potential starter and it went to the demo bench.
About an hour later, must be finally time for a shot so let's give this little one a try…Back to the Brazil Natural…
The Best Shot I had Today!
Out of the box, it was a roughy, but it just goes to show what a little T.L.C can do for a machine. On that basis, the Isomac Tea Due (with in-house adjustments), makes range and is now on demo. We have more coming. It's really good value for those on a budget and just goes to show that great coffee and a good grinder when coupled with sound technique can even slay a Slayer (or at least sometimes!). After all, it's not what you necessarily have, it's how you use it- said David to Goliath.