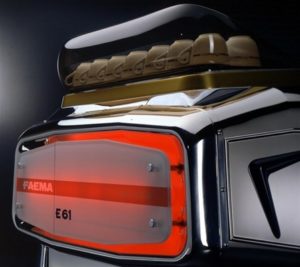 Talk Coffee celebrated our 10th anniversary in our beloved "man cave" (women are always most welcome too!) a month ago and my, how time flies! We've been around since 2000 in cafes and consulting and the present version of us hatched some five years later…This concept was never about bling and hundreds of square metres of retail space- more an industrial, intimate space where people could visit and "Talk Coffee".
Back in the early "noughties", there was nowhere in Melbourne where you could visit, discuss your needs and sample a machine or two in the hope of finding the right one for your home and specific requirements. Perhaps you'd visit a big roaster and take their word on their domestic model which was the junior version of their commercial gear. Some of it was ok, some far less so. So, the Talk Coffee demo bench evolved and filled with great gear which was designed to last.
This journey has provided me with the perfect livelihood, many with their perfect espresso equipment and plenty with coffee that they enjoy. "The Cave" aka "The Shed" is a place to hang out, chat, laugh and enjoy a shot or two.
When we opened, the vision included a commercial espresso machine for Saturday shots "on the house", a tradition which continues to this day and rather than a brand new machine out of the box, I was looking for something a little special. Along came a beautiful, iconic, fully restored 1963 vintage Faema e-61. This was the first machine we ever customised and it produced fantastic coffee once we were all done with it. A couple of years later, I became enamoured with leva espresso and the Faema was retired to a crate in the hope it might grace our home kitchen one day. About a year later, it was sold. I couldn't bear to have it unloved. It went to the cafe of a close mate and was used as a loan machine for a period. I'm not sure what became of it after that. I kicked myself for selling that machine and missed it- often. A chapter had closed. Meanwhile coffee at the shed was attended to by our stunning Izzo Valchiria. I adore using it each Saturday.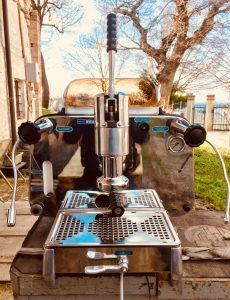 Earlier this year, some photos of a restored Faema President 1 group appeared on a web forum and the die was cast. Despite trying not to look at it, a month later the deal was done and it started its journey from Italy to Melbourne. This machine was attractive to me in that rather than being returned to a brand new look, aspects of the patina were allowed to remain. There came an idea that this machine may be the one to replace the Slayer which was then on kitchen bench duty. Our freight company did their thing and all arrived safely.
The restoration on the President was terrific, but as this machine was destined for our kitchen, a back to original President was never going to work, so the machine was placed in the hands of our buddy Rick aka The Coffee Machinist with an open budget and a "let's make this machine safe for home" brief. It had to be able to be left and to look after itself. Given we were coming from a Slayer, it had pretty big shoes to fill! Almost all of the electricals bar the pressurestat were removed as big things were about to happen…
Stage 1.
This round of customisation was about safety and temperature control, so the shopping list was pretty extensive:
Anti-vac valve
New safety valve
Autofill board with boiler probe
Stealth PID installation with associated SSR and boiler thermocouple
Wire it all up, make it work and make it look good inside as well
Reroute ugly drip tray drainage pipe to internal, under the machine
The brief was met perfectly and back came a machine I wanted to use! After a get to know you period, I felt that we were getting fantastic results from it. I didn't like the valves (heaps of free play before anything happened), nor the wands (fixed and somewhat disappointing microfoam, so I started thinking about the next round of upgrades. Hardware was going to be required to achieve this and some shopping ensued…
Stage 2.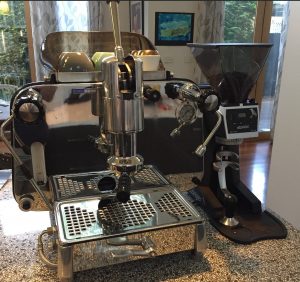 Fit Rocket Espresso R60V steam and hot water valves (a perfect fit!) R60 steam and hot water wands were too short to suit…
Hand-brush metal inserts for the valve handles
Swap steam to left side of machine (better suited to our kitchen) and plumb to suit. The original valves were 3/8″, but the newies are only 1/4″. so a fair amount of back of house work was required…
Source and modify appropriate (ultimately LM) wands and find a suitable steam tip.
Boiler insulation wrap for energy efficiency
Last week, the President displaced the Slayer in our kitchen. In a new (old meets new) coupling, it's cohabiting with my all-time favourite grinder- an Etxinger etxMAX medium W. A web-based timer switches the President off and and on as required. This combination provides pleasure with every shot and the results in the cup are every bit as good as we are accustomed to in our home. I'm loving the long, gentle preinfusion, 6Bar low pressure shots that this machine produces. We spent way, way more on customisation than the cost of the machine, but this was a project never destined to be cheap. It needed to be right!
Is this forever? That's a big statement, but I love looking at our President every day and it wows our visitors. For now, I'm more than happy and we're back to coffee nirvana!