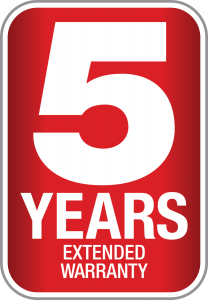 Peace of mind
At Talk Coffee, we take pride in providing high quality machinery and outstanding service for your espresso machine.
We offer the option of an extension to the manufacturer's warranty on selected machines for our local clients using their equipment for domestic use. This increases the total warranty to 5 years. ABN purchases are not currently included in this offer.
How does it work? Easily!
When you purchase a 5 year warranty eligible machine from us, you purchase it at full retail price and receive all regular inclusions. We extend the provisions of the manufacturer warranty coverage from one year to five years. Price match does not apply with this offer.
You maintain your machine with regular backflushing according to our recommendations. All service during the warranty period must be performed by Talk Coffee. We also strongly recommend the use of surge protection on the power circuit your machine is attached to- if not fitted to your home switchboard.
Should any fault be observed, you make immediate contact so that an assessment can be arranged if required.
Your machine MUST be run on suitable filtered, softened water. You will need to provide evidence of this by either purchasing suitable filtration from us OR checking with us that your filtration is appropriate and then providing purchase evidence documentation/water test documentation (on request) to prove that your filter has been changed at recommended intervals and is operating correctly for your chosen espresso machine.
You return your machine to us within 12 months of purchase for a minor service. During this service, we will check it over for any warranty related issues and replace any consumable parts as required. You will be charged only for consumables required and descaling (at our regular hourly rate) in the unlikely event that it is required. We will report back to you on the condition of your machine.
Thereafter, you return your machine to us a further two times (at 18 month intervals) when we will perform a minor or major service as required. You will receive a 50% discount on our hourly labour charge for routine service and also be charged for consumable parts. Should descaling be required, it will be charged at our regular hourly rate.
Any breach of these requirements constitutes an immediate forfeit of your extended warranty.