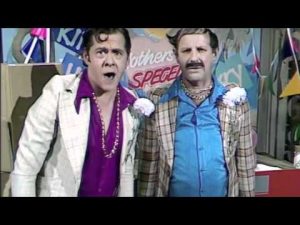 We had a bloke call earlier in the week and then visit us to buy a new machine yesterday. He was upgrading from a VBM Domobar Junior which was about 5 years old and now causing problems. The Domobar Junior is  a good machine, but it can and does bite if not well maintained. The old machine had developed a leak and he had decided that he no longer wanted to repair it.
In the phone discussion, I suggested that he bring the oldie so I could have a look over it and whilst I was doing that, the owner of the machine informed me of the service history of the machine. Turns out that in the last 12 months or so, he'd spent $500+ on service with two different businesses. The works included a pump replacement but the machine had never been right and after a prolonged "discussion", one business ultimately refunded their $300 charge for their "service works".
Out with the tools and I had a better look:
group seal and shower had been replaced
internals of the group had never been looked at- lots of wear
hot water and steam valves had never been looked at- lots of wear which would eventually lead to damage
wands- never been looked at
All this was before the covers would have been removed…
In two services by two different companies, neither had attended to what we consider to be the bare essentials and I am pretty confident that I would have found that nothing other than the pump had ever been attended to internally. Unbelievable!
In my opinion the machine was very much capable of being brought back to life. Perhaps the leak was from a badly installed pump or due to overfill caused by the failure to attend to other routine maintenance tasks which should have been performed inside the machine. Regardless, the client had lost confidence in the VBM and was of the opinion it was going to become a money pit. He purchased a new Rocket Espresso Mozzafiato Evoluzione. The old Domobar Junior was returned to his car boot.
Moral of this sad story is that two businesses had the opportunity to maintain our client's VBM with some simple service work. Both failed dismally and this is heartbreaking.
Our new client now has a good understanding of what is required to maintain a domestic espresso machine and we'll be ensuring that he has a long and happy experience with the new gear.
Perhaps a holiday house or office machine might be needed one day. Our bloke has a great fixer upper if and when…
As always, caveat emptor and if you'd like more information on what your service guys should be doing, our service facility webpage is not a bad place to start.
P.S. Sadly there's a P.S. to this story. Two days later, another client who had her superauto repaired by one of the businesses. She mentioned that she would like to upgrade to a real machine for home. The business went the hard-sell on totally inappropriate machine for her requirements. Single boiler in a household of 5 and often double that with the respective partners of her children would have been a recipe for disaster. Thanks for another sale, Dodgy bros.
Some just never learn…