Heft or hype?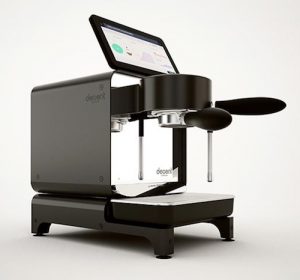 Many of our clients and followers have asked about Decent Espresso across the last couple of years.
John Buckman, founder of the company had the dream of creating an espresso machine which would emulate all others in an affordable, compact footprint. Admirably, John's philosophy is to be open and honest about the R&D and build phases via social networking. It's refreshing and commendable.
Capital for the Decent venture was gained in what was an effective self-managed crowd funding endeavour. Those interested in the Decent range were asked to trust "the pitch" and pay a deposit of 50% to Decent Espresso to secure one of the early batch of machines. We expressed interest in a DE1+ and paid full odds of $2900 for one of these "backer" units. An optional travel case at a cost of a few hundred dollars was offered and we declined the offer at the time of order.
Talk Coffee expressed interest in possibly ranging some Decent models early in the process and early discussions with John looked promising. Whilst margins were really tight, it looked as if it might be possible to have a bricks and mortar outlet in Australia where those who were interested in a machine that they could see, touch and sample. Sadly, between discussion and delivery, there was a change of heart and anyone who wants a Decent will be purchasing from Hong Kong in Aussie dollars. Support and service also currently reside in Hong Kong (Though there are talks of one day having a service facility somewhere in Australia).
It landed…
We were asked for balance of payment in July and early in August, we received our machine #209. In the period between order and delivery, Decent decided that all machines would ship in the travel case and that the price would increase to about $3900 AUD. We early backers received the case at no charge, which was a nice touch! The total cost of our machine was:
$2900 machine
$300 (approx.) freight
$0 GST. Our machine was valued for import purposes at $295 so no GST was paid.
I have little doubt that Australian customs will be onto this in due course and purchasers will be asked to pay GST and other charges (potentially duty as well?) as this machine would likely receive appliance classification on import. This would suggest that someone wishing to purchase this machine now would be up for approximately $4700- $4900 dependent on duty classification. This is not a cheap machine!
Initial impressions:
The big surprise was that that the carton was so large and once the unboxed, inside was another large (43 x 33 x 61 cm) quite plasticy travel case in which all components were well secured. Inside, multiple layers of foam protected the machine, ceramic tank and drip tray as well as the other components. In my opinion, this item still needs work. Ikawa and Lucie Audio use travel cases as well and both offer a far superior user experience.
In the case were all of the bits: machine, tablet, ceramic drip tray (with cover), tank, portafilter and an Australian power lead. No user manual to be found. Decent are very much an online company and that's where we were directed to for assembly instructions if required.
What goes where and how? All was pretty intuitive and I found I didn't need to refer to the online clips to get everything together.
Drip tray and tank are ceramic and beautifully made. I do see the potential for heartbreak though when the inevitable breakage occurs. Whilst the tank locks into place, the drip tray has no positive lock and is not particularly well supported by guides either. It's close to just sitting there in the assembled machine.
Wire drip tray cover could improve. Plated and no centre support. Really springy. It's not a wonderful fit either. I know that Decent are working on this. It currently in not of a quality I'd expect to see in a $5k machine.
I have concerns about the tank the top of which remains open. Will owners eventually find backstroking ants or a cockroach? La Marzocco use a similar, but superior design where the tray is covered with a transparent cover and removable fill hole.
Likewise on the stainless splashback. It looks a little cheap (thin) and ours has some minor ripples along the mirror bend and at the screw holes. This could be improved…
The group is a new two handle design where a brace handle allows for less rotational force as you lock in a portafilter. I guess this reduces the risk of the group being damaged. Steam wand on the right side. For those (most users?) who texture milk holding the jug handle in their left hand, working space is really tight and compromised. Had the group been on the right side of the machine and wand to the left, this would not occur.
Beautiful wooden handled portafilter and high quality, laser cut precision basket (18g).
So does it work?