As the hotly anticipated Australian launch of the Rocket Espresso R NINE ONE approaches, we thought it was time for a hands on.
At the time of writing, one evaluation unit exists in Australia and the Espresso Company Australia (ECA) headquarters in Sydney and as we've been pretty busy, it was a quick day-trip to allow for a couple of hours of experimentation to get to know the machine. My thanks goes out to the ECA team (in particular Charles, Salvatore, Nadine, Ben and Dave) for so generously providing time and assistance to make this quick visit highly informative and as always, most enjoyable!
So let's get down to it…
What is it?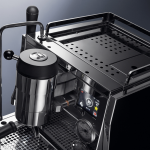 Rocket's R NINE ONE sits at the top of the Prosumer range and would also be perfectly suited to lower volume coffee carts where quality in the cup is paramount:
Dual boiler (3.6L steam and 1.9L brew)
Saturated, paddle operated group
PID control to both boilers
Hard plumb or inbuilt tank operation
Near silent, variable speed magnetic gear pump
Power requirement: <10A (1600W + ancillaries)
Dimensions (mm): 410 x 505 x 430 ( w x d x h)
Intuitive touchpad interface allows for setting of all parameters, programming of up to 5 pressure profiles and hot water wand operation. There was no need to consult the user manual to work out navigation.
When plumbed, hot water temperature is also adjustable- a highly desirable feature.
How is it to use?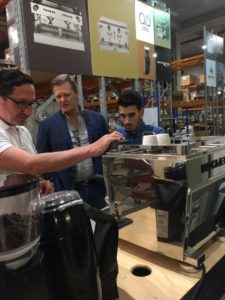 We pulled 30 or more shots across over two hours and played with the pressure profiles to see what it can do. Repeatability came via a Hiroia Jimmy scale system coupled with a Niche Zero conical grinder. We weighed into and out of the grinder to ensure that dose and grind were tightly controlled. A Panama Boquete roasted for fruity espresso at one week post roast was chosen as a "control bean". It can produce a great fruit into savoury result in the cup, but has somewhat less latitude than some of our blends. This allowed for us to play with temperature and profiles to try to optimise it.
One of the great aspects of the R NINE ONE and unique to the best of my knowledge is the ability to profile "on the fly" and then store and repeat a profile. Watch, taste and then vary.
An initial pour using a preset profile? Yuck…
I have a Slayer one group to play with and over time have become enamoured with long, slow preinfusions. I do this when I play with spring levas too and we decided to incorporate this, along with Nadine's love of 6Bar shots into a spring leva style profile with a low pressure finish and all further experimentation was based around this. Some of the broad profiles we played with:
2Bar 25 sec preinfusion – 6Bar -12Bar – 6Bar – 0.5Bar at 92.5 deg C and 94.5 deg. C (results 92.5 – nice apple acidity, broadly sweet and reasonably balanced, but with some aspects of sour intially and then a late, subtle bitter finish. Increasing to 94.5 deg C removed the bitter/sour but the mid-palate was a touch thin)
2Bar 25 sec preinfusion – 6Bar -12Bar – 3Bar – 0.5Bar at 94.5 deg (the winner profile of the day-  sweet, rounded and with great body and acid balance and mouthfeel)
Short preinfusions and some of the wacky factory saved profiles- generally poor with this bean.
Having tasted this many, palates started to wane and we were all starting to worry about sleep (or potential lack thereof!)…
Better test the steam…
A single attempt with milk was sufficient to inform that this machine has plenty of steam and the tip is terrific. It is easily as good as the LM GS3 and Slayer, but my gut feel is that it's actually superior to both.
The good?
There is a hell of a lot of good. I really was impressed by this machine and for mine, it's ready for the Australian market. It's easy to use and to be honest, it's the first pressure profiling system I'd personally want to live with. The interface is really nice and the near silent pours speak of quality.
A major positive is the ability to save that manual profile rather than have to guess to replicate it (Take note LM GS3 MP) or to have to think it, program it and then hope it works (ACS Vesuvius). This alone would have me choose this machine over either of these competitors.
Saturated group. LM has it, but the Vesuvius is e-61. Temperature changes are in the the cup far more rapidly than with e-61.
Overall excellent external finish. This machine shouts quality.
The quirky?
If you're accustomed to rotating a paddle clockwise (GS3/Slayer), you'll have to relearn what is innate. The R NINE paddle operates in the anti-clockwise direction. You may be used to taking a jump to the left, but with the R NINE ONE, it's a step to the right!
Altering profiles is a touch fiddly. This aspect of the software interface could be improved. I guess owners will get used to it. I'd prefer to touch on either the time or pressure variable as required and then set it and save it. At the moment, it's counterintuitive.
Being retentive, the font of the displayed profile (A, B, C, D, E) on the home screen was boring, default Arial. The rest of the interface was in the usual premium Rocket Espresso typeface. It's a little thing, but does influence perception.
The not so good?
This particular machine had a poorly fitting drip tray. Hopefully, it's a one off!
Anything else?
We ran out of time to have a look see inside to gauge what service tasks might be like. I have asked for some internal pix so as to get some more information on this aspect of the machine. We think that there would be a market for a 15A version for busier operations (coffee carts) where the ability to hear both boilers may be beneficial.
So would you buy one?
Yes- and we will have one on our demo bench. I may even consider an upgrade from Slayer to R NINE ONE for my home play space.
In conclusion…
Rocket Espresso have achieved with the R NINE ONE something that no other manufacturer has managed thus far for those interested in pressure profiling at home. The machine presents a very good user interface, looks good and is easy to use. It will produce astonishingly good coffee in the hands of an experienced operator. At the time of writing, it is without a doubt the best prosumer pressure profiling machine currently available.