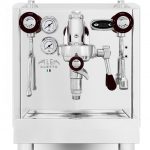 There are many hundreds of proud owners of Izzo espresso machines Australia and we have loved importing and supplying their fine equipment to them for nearly ten years.
Today we are thrilled to announce the beginning of the next chapter of the Izzo story. Whilst the baton has been passed on, we strongly believe in this great brand now in safe hands with an exclusive Australian importer.
Talk Coffee will continue to sell, support and service this fine equipment and we're confident you'll be seeing much more of the brand in the stores of premium espresso equipment resellers around the country and also when you visit trade shows.
We republish today's media release with the permission of our good friend Antony de Fina of Casa Espresso
IZZO Espresso
From the 1st of March this year, the Izzo brand of espresso machines produced by Gruppo Izzo in Italy will be proudly represented in Australia by Casa Espresso.
In a joint approach to Izzo with the current importer, Talk Coffee, Casa Espresso has now been appointed the exclusive distributor in Australia.
This year's MICE event, included a visit by Izzo's export manager, Valerio Ronci, who travelled to Australia to sign the agreement.
With a strong import and distribution network, Casa Espresso will be looking to grow the dealer network, increase the profile and support the Izzo brand in Australia.
Izzo has always had very strong support in Australia. In fact Izzo owners rarely see the need to upgrade once they have one, a true testament to the quality and features of the brand.
The groundwork in establishing the Izzo brand has been laid by Chris Natoli of Talk Coffee. Chris will continue as a master reseller of the Izzo brand in Victoria as well as working as a brand ambassador representing Izzo in marketing and at trade shows.
As the official and exclusive distributor, Casa Espresso will draw on their import and distribution network as well as investing in marketing and sales support for the brand.
The message of the Izzo company is unique as one of the only machine manufacturers that also roast coffee. This approach helps the company focus on creating machines that directly improve and complement the espresso experience.
Our first import for 2019 will see some small improvements to each model currently sold in Australia. We will be collaborating with Izzo in the development of some additional models for launch in 2020 and beyond.
2019 marks Izzo's 40th year anniversary and we celebrate the success of the past 40 years as well as looking forward to increasing the profile and reach of the brand in Australia.
The future for Izzo in Australia is bright.