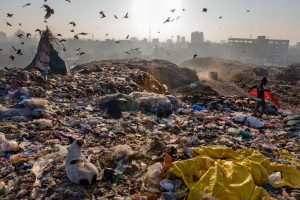 Updated/edited September 2022
When it comes to packaging, the coffee industry really does suck. There has to be a better solution…
We're a humble little micro-roaster and we use many, many thousands of coffee bags each year to package our coffee into. The biggies? They must use millions of them. In Australia, the overwhelming majority of these bags are a foil/plastic mix and you'd have to think that if a cheap, thin plastic bag can survive for a thousand years in landfill, what about a coffee bag? Would it last for 10,000 years? The industry buries its head in sand and it's just not acceptable to not make an effort to do better.
More sustainable packaging?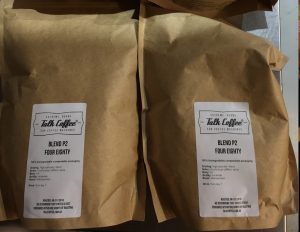 Yes, there is better. In 2016, we embarked on a search for an environmentally friendly bag which would compost- ideally even if they landed in landfill and our search led us to Bio Foil Bags. It wasn't easy to find anything which would work well with coffee, but they were the best we could source. The bags are constructed from biodegradable brown kraft paper for a natural organic look on the outside as well as an internal high barrier biodegradable Bio Foil on the inside. Our Bio bags have done a pretty good job of keeping the coffee they contain fresh as well as arriving in one piece at their destination when posted. Bio Foil bags meet the BS EN 13432 'compostable' criteria and were a good start towards doing something better. They're single use though and there was still a level of concern about just how well they'd do the disappearing act and what would become of the "biodegradable" plastic component of them. We happily paid double the cost of a traditional foil bag to purchase them and used them until 2022 wen double became over triple the cost. In the light of surging costs everywhere, we have reverted to a redcycle recyclable bag which can be recycled with your other soft plastics. We'd prefer to use these in minimum possible quantities, which is where you come in…
Reduce/Reuse/Recycle…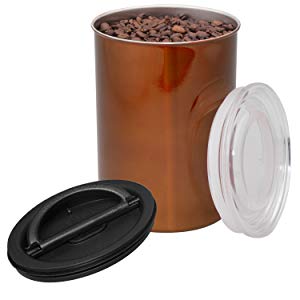 A couple of weeks ago, a great new product arrived in Australia and it's the holy grail as far as we're concerned. The product goes by the name of Airscape and it ticks all of our coffee packaging boxes:
food safe
reusable
looks great
airtight
it bounces rather than shattering
not too expensive
We think they're so good that we are asking you, our customers to join us on the ride. In February 2019, we'll be switching to Airscape for all coffee purchases direct from our warehouse.
How does it work?
Easy. When you purchase coffee from our warehouse, It will come home with you in a gorgeous Airscape canister valued at $60. We'll charge you $40 for one (in addition to the cost of the coffee it contains) the first time you buy coffee this way.
What are my responsibilities?
When you're ready for a top up, you return your Airscape in good, clean condition (fair wear and tear is fine) and then swap it over for another filled with freshly roasted coffee. If it comes back dirty/damaged, we may reject it or charge a cleaning fee. We'll then sanitise every returned Airscape before it begins its next bean cycle.
Should you choose to keep your Airscape, that's fine as well. We'll just charge you for the next one you purchase. You'll be helping do your bit for the environment by reducing and reusing!
Can I bring my own container instead?
Absolutely! We'd love that. We'll empty ours into yours! If you are particularly enamoured by your own personal Airscape, we're happy to empty ours into yours as well. We'll print you some removable labels so that you know what you have purchased.
What about posted coffee?
We'll continue to post in recyclable coffee bags. The best thing you can do with your used bags is to actually recycle them!
Of course, if you'd like to Airscape too, we have them for you to purchase in a range of colours, sizes and finishes and there will be more options to come.