Last week's battle was a cracker with some full distance fights and a couple of surprise results.
In our final bouts for the year we have some polished performers willing to bring their "A game"…
Fight 1: Welterweight division: Rocket Espresso Mozzafiato Tipo V v Izzo Vivi
So you saw the Lightweight fight last week. The Rocket Appartmento was outclassed by the Izzo Vivi which won on points. Brimming with confidence, this week the Vivi will take on the acclaimed Rocket Mozzafiato. This battle will be much tougher…
Round #1-3
Both fighters were straight out of their corners and looked confident. Rocket landed a powdercoat chassis and Izzo responded with a clean stainless chassis left hook and a far superior drip tray capacity. PID temperature control was landed by both fighters. Izzo attempted a boiler and system pressure gauge combo but Rocket blocked with superior gauges. All but one of judges scored these rounds as tied. The remaining judge had Izzo a point ahead
Rounds #4-8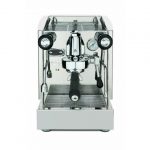 Great shot quality punches thrown by both fighters. Both fighters scored equally on steam pressure, longevity and quality. Shot quality was line ball. Izzo barely landed an internal build quality punch and Rocket responded with a slightly quieter pump. One judge had the Izzo ahead by a point.
Rounds #9-12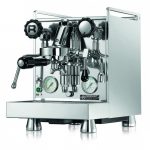 Refreshed after the break, Izzo scored on bang for buck for which Rocket could only offer a Christmas discount response. Izzo had a quick 1.5L boiler and a boiler drain plug and Rocket landed a strong 1.8L reply which briefly had Izzo on the ropes but Izzo recovered immediately. Rocket landed back to back shot consistency but Izzo also had a rock solid supply to counter. Line-ball.
Rounds #13-15
What a great fight! Both fighters landed strong punches. Rocket again landed beautiful design and while Izzo's stainless mushroom again shattered the ceramic mushroom of the Rocket which will be back in the surgeon's hands on Monday. Both fighters were on the ropes at times but each finished strongly.
Result: Draw. 
While the crowd was uncertain, two of three judges scored the contest even. The fighters embraced and the referee raised the arms of both fighters. Rocket retains its title belt.
Next up, the Light heavyweight event of the evening where the dual boiler champs from Rocket and LaMarzocco take each other on. The Izzo comfortably took the Rocket R58 out last week and this week takes on a title holder. With Izzo in great form, this will be a great fight!
LM made the weigh in and only after a discount. Izzo looking lean, fit and mean!
Fight 2: Light heavyweight division: LaMarzocco Linea Mini v Izzo Alex Duetto IV Plus
Round #1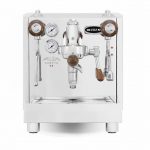 Crowd favourite LM brimming with confidence, straight out of the blue corner and offered a powdercoat chassis and rapid warm up. Izzo was (barely) slower to warm but scored clean hits on stainless steel chassis, ease of fill and ease of PID adjustment plus a shot timer to which the LM had no reply. The LM with a pseudo PID hit the mat and the bell signalled the end of round 1. LM in the hands of the trainers.
Rounds #2-5
The refreshed LM out with a combo of innovative actively heated group and beautiful heavy panel construction but the Izzo countered and offered great external finish- a match for the LM. The LM landed steam pressure and longevity, but the crowd could see little real advantage in the real world. Both machines landed stainless boiler punches but the LM punched heavier due to capacity and got the points. Izzo landed the ability to heat both boilers simultaneously. The bell signalled the end of round 5 and both fighters retired into the hands of the trainers.
Rounds #6-11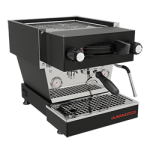 Izzo came out of the red corner confident and punching strongly on bang for buck. LM landed a couple on brand cred. but Izzo countered with plumbability- straight out of the box. LM on the ropes.
Round #12
Izzo was back out on the bell looking fresh and landed a strong combo on external boiler drains and inspection plates as well as slightly superior internal build quality. A swift left had LM on the ropes yet again and the referee intervened. The bell rang soon after. LM, bloodied and in the hands of the trainers.
Rounds #13-15
LM and Izzo both exchanged strong rallies on resale value and both scored points. Izzo had LM back on the ropes on superior (real) preinfusion. LM attempted a dirty, low fake paddle punch combo, but Izzo blocked with a real leva which works- not a dummy switch. The bell signalled the end of the fight. The crowd acknowledged that only back-room doping would deliver a real preinfusion to the Linea mini.
Result: Izzo by 3 points. Betting stats showed that the crowd had thrown their money onto LM but judges have awarded the bout to Izzo which gains a new title belt. LM, underprepared and fighting on reputation could not decisively counter the Izzo specification, real world fighting ability nor bang for buck. 
With the crowd on their feet after this shock result, Izzo graciously accepted the spoils of this contest and acknowledged a strong opponent. In this fight, Izzo was smarter and did much more with less. Red and blue congratulated each other on an enthralling contest.