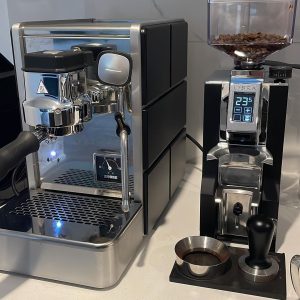 TC has an unwritten rule that on any holiday involving a road trip, an espresso machine and grinder must accompany the bags, food and wine.
The usual go to kit is Olympia Express manufactured in the form of a Cremina and Moca SD grinder, but this time we decided to mix it up a little and road test some new (and somewhat larger) kit in the form of a Stone Espresso Mine and the newly released Eureka Mignon Libra grinder.
Stone Espresso
The Stone was released in 2022 and targets the Apartment market: You want espresso kit, but perhaps the space is too tight to allow for more conventionally sized gear. Life may be fast and perhaps you entertain as well. The convenience of a machine which is ready when you are is important. Enter the Stone!
The Stone is a Heat Exchanger (HX) machine with a decent sized 1.5L boiler. At 22.5cm narrow, it's perfect for tighter spaces. Whilst the tank is only about 1L in capacity, we think that's a a good thing. Fresh water makes for fresh coffee and if you're filling each day you can optimise water quality.
The really handy characteristic of Stone is an actively heated group. Power up to read for work is under 10 minutes and you will find that once you see 1Bar at the boiler pressure gauge, the group is hot and you have plenty of steam. Coffee then….
What we like about the Stone…
Quick and easy fill
Rapid heatup
Robust construction
Pick and choose from a variety of external finishes
Great shots and rapid recovery
Less so…
No hot water wand for that cup of tea/long black. This also means that there is no exchange of water in the boiler (although it does have an internal drain for service). Ionic content of water increases when you continue to draw steam from a boiler and can ultimately form Scale. In a service sense, we'll be draining the boilers of Stone machines when they arrive for service
Porting of the steam wand is pretty wide. Perfect microfoam is not as easily obtained when compared to other steam tips. It's not a dealbreaker, but a little more care is required.  We think that Rocket Espresso replacement tips might fit but are yet to test this at the time of writing. Stay tuned for an update
We're also not looking forward to trying to get that steam wand back on after we do a routine service on the machine as there is no clearance from the front panel. This is one where designer and manufacturer don't think about the service tech at all. It's not the only brand where we see this lack of consideration. This is not a deal-break, but just irritating. Step up guys! You need to do waaaay better!
Drip tray is small and plastic. You remove the drip tray cover and then the drip tray is visible. You're only going get 100ml or so into it before you will feel it needs to be emptied. Allow it to overfill and you have waste water in the front of the chassis
Drip tray cover is a little flimsy, easily scratched and does not allow you to easily see that it's time to empty the drip tray
Internal packaging is naturally pretty tight. Some service jobs may take a little extra time
You'd buy one then? 
If space is tight and a quick warmup is important, it's a no-brainer!
If size and time is less of an issue, perhaps a Rocket Appartamento, Izzo Vivi Flat or Vivi Pid? If need be, a web timer would overcome the 30 minute warmup objection of these three larger options.
Eureka Mignon Libra
The Eureka Mignon Libra is new to market for 2023 and offers grind-by-weight (GBW)- otherwise known as gravimetric dosing to a whole new market segment. There is a cheaper "appliance" GBW grinder. It shall remain nameless. We tried it and hate it! It's noisy and it breaks, so that one gets binned immediately.
What we like about the Libra…
Easy and intuitive setup. Single or double, how much would you like and did you set the portafilter rest? That's it, you're ready to grind!
Quick and quiet
Lovely build quality
Beautifully finished portafilter rest which is easily adjusted
Doses beautifully to the centre of the basket
Great shots!
Less so…
For this particular application, we chose a triple basket and would have liked perhaps 23g or so to have been delivered into the basket. The delivery from a relatively narrow spout had grinds on the workbench within about 20.5g. Not a dealbreaker though. It was easily fixed with a dosing ring
A little clumpy out of the box, but this will improve once the burrs bed-in a little more
The chassis/case was larger than expected. It's the same width and depth as all Mignon grinders, but another couple of cm taller
Portafilter rest was a little slippery with our specific setup. A couple of instances where we thought the portafilter may fall out. It would be great if it was a little more grippy
If you're listening Eureka, it's time to lose the polystyrene from the packaging!
You'd buy one then? 
Absolutely! At <$1.5k, it's a category killer.
Overall then?
This combo made for terrific travelling kit. Multiple users and we all enjoyed the experience and the coffee. It's perfect for smaller spaces and the grinder is brilliant! We highly recommend this combo.
Can I try them?
You sure can! This kit is on our demo bench and you're welcome to make a time to come and play….