The grey import trap.
Over the last couple of weeks we have been dealing with a bloke who received a wonderful present from his partner: A new espresso machine.
Story goes that they purchased it over a year ago and used it once or twice after which it went into storage until recently. It fired up but there were clearly some significant issues. All was not well.
He contacted the mob he purchased from. They were supposedly in Sydney. He was in WA. He described the issues and asked for support only to be told that the manufacturing company he purchased from will no longer do business with them and that he was on his own.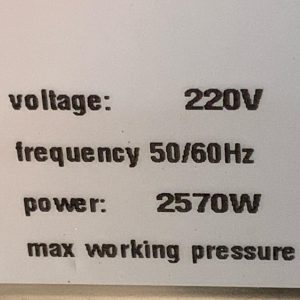 A web search led him to a reseller of the machine in Perth. who were soon in contact with us as they had never seen this configuration of machine previously.  They ran out of fix it ideas. Their techs chatted with ours and the short story is that it has crossed the Nullarbor and is now with us in the hope we can fix it. On inspection, it's clear that our bloke has purchased an espresso machine from a company in Sydney, Italy! 
Sydney Italy you say? There is no Sydney in Italy. Our bloke was yet another victim of the grey import trap. He purchased from what he thought was a place in Sydney. They had "an office and a Sydney phone number too"…or so he said. "Their .com.au website has an address and product is listed with GST as well."
Our bloke has a grey import and worse still it's been attacked at some point for some spares.
What are the signs?
The machine has shipped with an EU to Australia power lead adapter.
It's illegal in that the machine is actually draws over 10A in power.
The website promises "Plug adapted to country of sale"

The website states that "sometimes product may ship from Italy"

The website has multiple virtual offices in countries all around the world and uses VOIP phone numbers to make look like they actually exist in specific countries. All calls are actually redirected to a mobile phone- somewhere!
It's sad but:
Our poor buyer is facing a large account to make his machine work. It needs to receive an Australian 15A power lead which will be less expensive than replacing elements to allow it to operate safely on 10A. We then need to work out what happened to the missing component/s and wiring. A few hundred dollars was was saved at purchase, but he actually purchased a cheaper model with no warranty and no GST was actually paid by the business he purchased from. The customer was misled throughout the transaction by a highly dishonest business. If we can repair the machine, he will still have a low value grey import which is not covered by Australian Consumer law provisions.
How do I protect myself if I am buying online?
Do a web search to check for a bricks and mortar address (Not a virtual office or house where you may have warranty & future servicing problems)
Do an ACN or ABN business search. If you find nothing, you are dealing with an overseas business and if you purchase from them there will likely be implications with warranty/servicing.
Establish that websites listing as .com.au are actually located and posting within Australia. If they're not, you may have hidden international transaction fees applied to your purchase. You may also find yourself  responsible for overseas return charges if required.
Check your card or PayPal account for international transaction fees. If they are charged, request cancellation of the purchase and organise a PayPal dispute or for your bank to commence credit card chargeback proceedings
Check product review sites for details of the business
The promise of an overseas plug with an Australian adapter is attached (plug adapted to country of sale) is a dead giveaway and and this can and will cause insurance issues in the event that you are using a machine which is unsuitable for Australian use