Need mains pressure water for your machine?
The Flojet is great for coffee carts, shows & events, demonstrations, temporary installations and difficult plumbing access.
You can use an inline filter system post bottle for optimal machine protection and water quality.
Flojet bottled water system for portable water supplies can be utilised for coffee/tea machines, water dispensers, refrigerators, ice makers, and other applications using portable water supplies. The Flojet system is also designed for convenience – the pump shuts off when the water source is depleted, and when water is restored it automatically restarts. This eliminates the chance of any damage to the pump and control box from running dry.
Available in single and dual inlet versions.
Specifications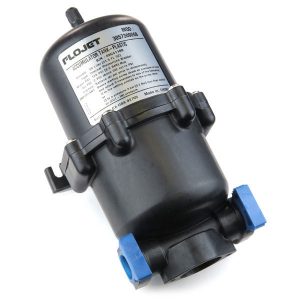 Flow Rate: 4.1 L/min
Max. Pressure: 2.76 Bar
Dimensions (w x d x h): 13.72 x 21.60 x 6.86
Power 230V 0.3A @ 50Hz
Weight 2.04kg
Where used with pump and motor style espresso machinery, we recommend the addition of an accumulator tank such as the Flojet Accumulator tank