Kees van der Westen has been producing cutting edge espresso machines for over 20 years from his location near Amsterdam in the Netherlands. A wide range of customisations are available for this machine.
Designer of many iconic machines, Kees has channelled all his accumulated experience into the Speedster, Mirage, Spirit and now the new Slim Jim masterpiece. The vast advantages of Kees machines are conferred through exceptional thermal stability and radically beautiful industrial design. Few things add more presence to a cafe than a handcrafted sculpture in metal and glass, which has the leading technology and no-compromise build quality required to produce rich, powerful espresso all day under the busiest conditions.
Technical features:
Multiple boiler system: steam boiler plus boiler per group, all temperature control by PID; each group fed with water preheated to target temperature via heat-exchanger with self-regulating temperature adjustment.
Actual water temperature in each group is displayed in extra large digits.
Two stage progressive pre-infusion cylinder per group
Pressure gauge per group indicating real-life extraction pressure at the puck.
Shot-timer per group.
Drip tray easily adjustable in height.
Two hot water temperatures available.
Powerful, isolated steam boiler – up to 6,000Watt.
Dual volumetric Bastone lever.
All stainless steel construction
Options:
Foot activated steam valves.
Active cup warmer with temperature control.
Sneeze guard awning.
External temperature probe.
Customisation:
Next to the high build quality and strong performance in extraction and steam, our machines` main point of difference has since 1984 been their design. The Slim Jim is offered in a wide array of appearances. Everyone can now have their own bespoke machine, be it the aspiring espresso bar owner or a chain of shops. Many different, visually defining parts can be  chosen; legs, front panels, side panels, cup rails, colours, awnings, colour of knobs/handles, groups, and so forth. Furthermore, all parts are interchangeable allowing the Slim Jim to be evolved or adapted over time.
Slim Jim Duette
TECH LEG – GLASS SIDE PANEL – RAW FRONT – OPEN STEEL CUP RAIL
TECH LEG – CRACKLE BLACK BODY – OPEN STEEL CUP RAIL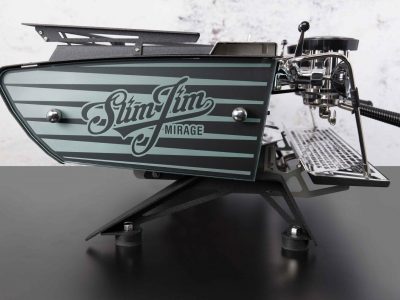 TECH LEG – GLASS SIDE PANEL SLIM JIM LOGO – OPEN STEEL CUP RAIL
FAT TUBE LEG – CRACKLE BLACK BODY – RAW CUP WARMER – RAW OPEN STEEL CUP RAIL
FAT TUBE LEG – GLASS SIDE PANEL – RAW OPEN STEEL CUP RAIL – RAW FRONT
FAT TUBE LEG – RAW CUP WARMER – RAW OPEN STEEL CUP RAIL
RAW OPEN STEEL CUP RAIL – RAW BODY PANELS
STRAIGHT LEG – RAW BODY PANELS – RAW OPEN STEEL CUP RAIL
RAW CUP WARMER – RAW PPIC PANEL – RAW OPEN STEEL CUP RAIL
STRAIGHT LEG – RAW FRONT – OPEN STEEL CUP RAIL
STRAIGHT CLOSED LEG – CRACKLE BLACK BODY PANEL – OPEN STEEL CUP RAIL
STRAIGHT CLOSED LEG – CUSTOM GLASS SIDE PANEL – CRACKLE BLACK BODY PANELS – OPEN STEEL CUP RAIL
FAT TUBE LEG – GLASS SIDE PANEL
FAT TUBE LEG – CRACKLE BLACK BODY PANELS – CRACKLE BLACK CUP WARMER & OPEN STEEL CUP RAIL