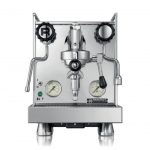 Giant killer!
It's taken a while, but our stock of our new Australian specification Izzo VIVI PID Plus espresso machines have completed production in Italy and they're now in transit to us. Once they clear the current terrible weather in Europe, they'll be on a plane and heading to Melbourne. We expect to have them available for purchase in early March.
We're really excited about this new Vivi as we feel that it's the best compact heat-exchanger (HX) machine available in the under $3.0K price bracket.
Why do we say that?
To approach the specification of this gorgeous machine, you'd previously need to spend at least $3000 and then you would still be left short. Key specification highlights of the Vivi PID Plus include:
PID controller- accurate and stable

NEW: Slimline drip tray with magnet to ensure optimum placement. 1.5cm lower than previous models for those who like larger cups.
NEW: Boiler AND System pressure gauges
NEW: Boiler with drain plug to allow for rapid and effective emptying after descale and for storage
NEW: Mushroom, gicleur, top nut in stainless steel

Finely crafted 304 stainless steel chassis and case. No powdercoat.

Stainless steel hot water and steam wands with an ergonomically perfect t

wo hole steam tip

A whole host more!
Like what you read? Make a time to come and see for yourself. We will have one on demonstration.